Archive for December, 2011
December 24th, 2011 Categories: Real Estate News
I met Missy Caulk through Active Rain over 6 years ago and all I can say is to know Missy is to love her. Through her I also met her daughter Christa, an amazingly strong woman in her own right and her husband, Bob Stewart. Even though we live thousands of miles away, social media and the RE.net community has allowed us to become good friends with them.
On Christmas Eve, I am also reminded that there is probably no greater love than a parent for their child. I know how much my world changed when we had our two boys, Sean and Alex, and yet I can not begin to fathom what it would be like to have them gone tomorrow, unexpectedly struck down in a car accident or sudden health issues. But this is exactly what happened not once but twice to Missy and her amazing family in the last 2 months.
First, Missy's 27 year old son, Jamie died in October as a result of a car accident and then her 11 week old grand daughter Lillian (they lovingly called her Lillie Bear) died suddenly as well. Your can read more about it here:
http://www.annarbor.com/news/saline/family-friends-remember-saline-native-who-died-after-crash-in-tennessee/
http://annarbor.com/news/saline/families-mourn-loss-of-11-week-old-lillian-caulk-niece-of-recent-crash-victim-jamie-caulk/
http://jjmediaonline.com/2011/11/we-remember-jamie-caulk/
Watch 1 1/2 minute video below  - The Jamie & Lillian Caulk Memorial Project 
Like so many people that care about them, I have cried and grieved and prayed and struggled with how to best be there for them in this time of unimaginable grief. They are all amazing, strong, faithful people and they ask for nothing but I was thrilled when a friend of hers, Carol Grubb, whom I'd met with Missy 3 years ago reached out to tell me about their local plan to dedicate a park bench in a special place in Jamie and Lillie Bear's honor. She asked if I could help let all of Missy, Christa and Bob's online friends know about it so they could also be a part of this memorial project. Of course I said yes!
If you're like me, you may be feeling the same way…WOW, finally something I can do for them to bring them some joy, some peace, some love in action…after all isn't this the real reason for Christmas and the goal, to do for other and strive to live like it's Christmas all year long. The cost of getting this memorial bench done has been estimated at around $3,000 which could be as simple as 300 people donating $10 each or the cost of one meal out, or giving up coffee for a week to give a family a special peaceful place to honor and remember their loved ones. My hope is that this makes the Caulk's family Christmas a little brighter and this is one Christmas gift that I'm thrilled to be able to give a little joy, that's Christmas to me ;D
Carol shared with me that when the Caulk family members learned of park bench memorial they were so excited and Missy, a mother and grandmother that's lost so much,  smiled at the thought of having a happy place in their honor. So as we approach Christmas tomorrow and count down to the New Year I would ask you to consider making a donation to the "The Jamie & Lillian Caulk Memorial Fund" to take this from and idea to a reality – I've put together a minute and a half video that shares my thoughts about the project and invite you to watch it.
So how can you help?
3 Ways…
Continue to pray for the Caulk family
Help get the word out by sharing this post on Facebook, Active Rain, Twitter to those that know Missy, Christa, Jamie, Bob and all the Caulks or consider doing your own blog post
Make a donation
How to Make a Donation (no gift is too small):
Make checks payable to "The Jamie & Lillian Caulk Memorial Fund"
Mail those checks to:
Carol Grubb
3647 W. Greenook Dr.
Ann Arbor, MI 48301
Or send a Paypal (as a gift so all funds go to them) to cyndeehaydon@gmail.com and put "The Jamie & Lillian Caulk Memorial Fund" in the memo
Along with your donation, Carol has requested each person's name or names & email addresses because she will be giving the Caulk's a card from everyone and she also wants to keep you informed of the details of the upcoming picnic / dedication that is being planned for early to mid-May when the bench is ready.
Wishing you and your family a Merry Christmas and a Happy New Year!! If you have any questions don't hesitate to call me either ;D
Cyndee Haydon, Premier Sotheby's International Realty - Realtor | Estate Agent specializing in selling Luxury homes and beach condos from Clearwater Beach to St Pete Beach - 26 miles of paradise. (727) 710-8035 Cyndee's Google Profile
Posted by Cyndee Haydon | Currently 4 Comments »
December 13th, 2011 Categories: Clearwater Beach Florida, Island Estates Florida
Clearwater Beach Florida – This past weekend was the annual Island Estates Yacht Club Holiday Boat Parade. This parade is held along the Clearwater Beach intercoastal waterways and starts at the Island Estates Yacht Club and weaves it's way up and down the waterfront Island Estates homes and condos then also past Coachman Park. The parade is always held a week or two before Christmas and is a memorial to members of the Island Estates Yacht Club that died in the last year.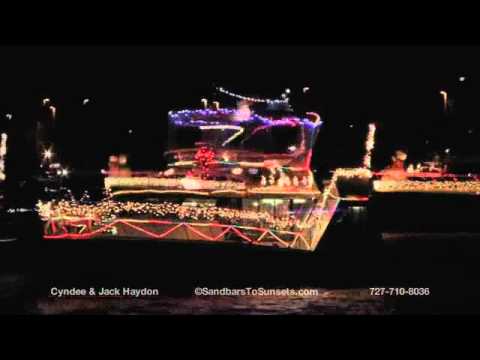 This is one of my favorite things about living in Clearwater Beach FL in December
– Hope you enjoyed the video of this year's Clearwater Beach Florida boat parade  - we had a great vantage point from Belle Harbor Condos boat slips. What a beautiful night it was with a full moon and all. If you have any photos or pictures I'd love to share them here too – email them to cyndee at sandbarstosunsets dot com – What's your favorite thing to do to prepare for Christmas??
Cyndee Haydon, Premier Sotheby's International Realty - Realtor | Estate Agent specializing in selling Luxury homes and beach condos from Clearwater Beach to St Pete Beach - 26 miles of paradise. (727) 710-8035 Cyndee's Google Profile
Posted by Cyndee Haydon | Currently 2 Comments »